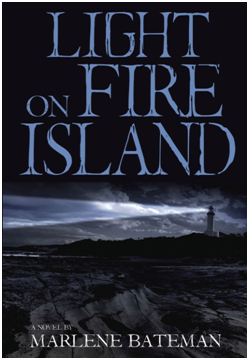 ISBN 9-781598-115529
305 Pages
Category: LDS Fiction
Publisher: Covenant Communications
Retail Price Book $16.99
Available for Purchase at Amazon and Deseret Book.
"Anne had taken a few more groping steps when she heard a sound more frightening than anything she'd ever heard in her life. It was faint-an odd shuffling noise. A sound made by someone who was in the building with her. Anne jumped as cold fingers touched her arm, then pulled away so sharply she hit her shin against a box and had to stagger to catch herself. A husky voice whispered in a tone raspy and low, "You're meddling with things better left alone! If only you had gone back where you came from, you would not have been hurt. You've been given too many chances to escape now." (Excerpt from Light On Fire Island)
A wonderfully intriguing and romantic mystery, Light on Fire Island is set on Fire Island, New York, in 1926. If you love romance and mystery, you'll be captivated by this book.
Lee Groberg, an award-winning producer/director whose documentary films include An American Prophet: The Story of Joseph Smith, Sacred Stone: Temple on the Mississippi, Sweetwater Rescue; The Willie and Martin Handcart Story, and America's Choir; The Story of the Mormon Tabernacle Choir, says; "Marlene Sullivan has a wonderful talent of transporting the reader to another place and time as Fire Island and those who live there come alive with her descriptive talents. Marlene creates a mystery that keeps the reader engaged and guessing until the very end."
Five years ago, Anne Tyler was banished from her home on Fire Island, New York by her father because of her allegiance to the Church. Her eleven-year old brother, Joshua, is the catalyst for her return when he calls to report that their father, the keeper at the Fire Island Lighthouse, has suffered a serious accident. Tearfully, Joshua begs Anne to return to help run the light until their father can take over. Anne agrees to put aside her bitterness and returns in order to fulfill a promise she made to her mother before she died.
Soon, Anne discovers that her father's accident was no accident, but that someone deliberately tried to kill him. As she sets out to discover who attempted to kill her father, and why, Anne becomes worried about her old friend, Ethan. Although he has always been a simple minded man, Ethan appears to have become unhinged after his wife, Sarina, drowned two years ago. Ethan is convinced his wife was killed by 'bad men' and embroils Anne in the mysterious circumstances surrounding Sarina's death.
Two men, the charming Clint and handsome Daniel, bring romance into Anne's life, but there are so many mysterious incidents that Anne doubts she can trust anyone.
Through it all, Anne has to struggle with her tangle of mixed emotions toward her father. New information about her banishment surfaces, helping dissolve the bitterness she has harbored for so long. Anne is prompted to listen to the Spirit and is surprised to discover that her father has had special promptings and experiences of his own, with astonishing and unexpected results.
Anne is close to finding out who is responsible for her father's near-fatal accident and Sarina's death when an attempt is made on her own life. At that point it becomes chillingly clear that someone wants Anne stopped-permanently.